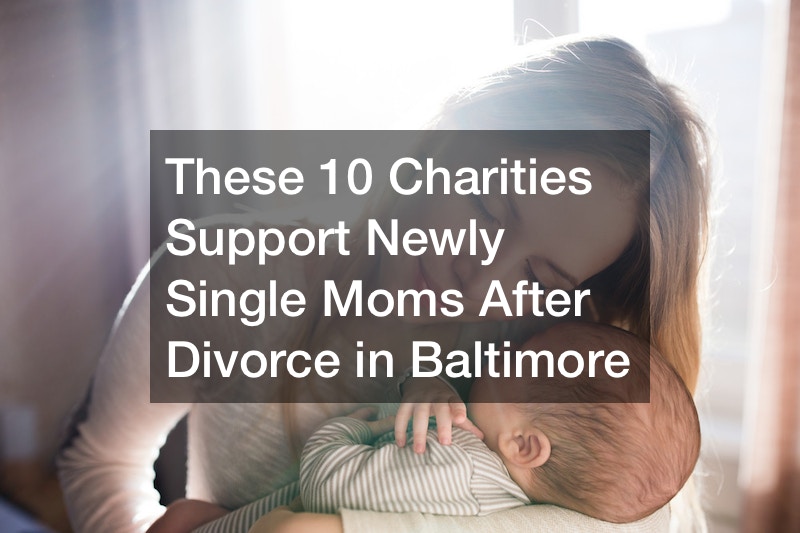 These 10 Charities Support Newly Single Moms After Divorce in Baltimore
Single mothers are often placed under a lot of pressure, which can leave them feeling isolated and downtrodden. These feelings can also impact their parenting, leaving the entire family in a state of crisis. Luckily, help is at hand to help these parents get back on their feet and continue to live happy and healthy lives. To discuss this further, this piece will explore a collection of admirable charities that work to support divorced single moms who are living in Baltimore.
10 Charities That Support Divorced Single Moms in Baltimore
1. The Baltimore Women's Giving Circle
First established in 2001, The Baltimore Women's Giving Circle works tirelessly to support local women and their families as they continue to become more self-sufficient. This charity works alongside a series of dedicated committees to ensure that single mothers can gain access to the support they need to care for their children. Native organizations can also apply for certain grants to help them fund projects that support these women and their growth, making The Baltimore Women's Giving Circle a charity that is consistently focused on the well-being of single parents. With so many resources and contacts available, this is also a useful institution to follow if you are looking to research local divorce attorneys to help you in your separation.
2. Grants for Single Mothers
We all need a little help sometimes and Grants for Single Mothers is a charity that allows long-term and newly single moms to find financial support without judgment. Its website lists a series of relevant grants and advises women on how to apply safely and effectively. Thus, single divorced moms can now focus on getting a fresh start such as finding a suitable housing placement to hang up their cherished family photos.
3. Single Parent Advocate
Some newly single moms have been alienated from the rest of their family, leaving them to take the burden of these hefty responsibilities. Single Parent Advocate focuses on giving single moms a voice and guides them toward a plethora of invaluable resources. This charity also collaborates with the U.S. Department of Housing and Urban Development to help single parents find a home that suits them and their families. They also offer advice about homeownership, which is an important aspect for parents who are interested in estate planning and are eager to get their assets in order after their divorce.
4. Life of a Single Mom
Life of a Single Mom works to educate parents on the importance of effective coping skills and offers a wealth of informative literature to help newly single moms handle this new chapter in their lives. This charity has formed the Single Mom University, complete with educational seminars and social events to give these women a chance to join together and work toward a common goal. It also encourages its members to lend a hand to the single mothers in their own lives, inspiring them to donate to the cause or even help newly single moms find a collection of packers if they have decided to move house.
5. Bridge of Hope
This charity uses a Three-Way Partnership Model to help care for homeless and at-risk single mothers in Baltimore. This model consists of three strands: Bridge of Hope Family, Bridge of Hope Professionally-Trained Social Service Staff, and Bridge of Hope Mentoring Group. All of these concepts work together to provide single mothers with everything they would need to live a prosperous life. Whether it's getting in touch with compassionate homeless shelters or local movers, this charity is determined to get single mothers and their children off of the streets and back into a loving and safe home.
6. The Salvation Army
The Salvation Army is one of the world's most prominent charities and focuses on providing safe and comfortable housing to those who are looking to rebuild their lives and become functioning members of society. This charity gives single mothers the prime opportunity to find lucrative employment and continue to provide for their children. The Salvation Army also accepts an array of donated goods such as furniture, clothing, and even automobiles. As such, these items are sold in thrift stores all throughout Baltimore to help fund the Salvation Army's Adult Recovery Centers.
7. Warrick Dunn Charities
Founded by renowned football star Warrick Dunn, this organization strives to help single mothers make their house into a home. As the youngest son of a single mother, Dunn understands the pressures that these women are under, so provides working parents with a plethora of furniture to support their families. Warrick Dunn Charities works with a series of devoted volunteers and contractors to make local homes more sustainable so that children can remain within their communities, which is particularly important for families who are eager to join a school district by zip code.
8. Helping Hands for Single Moms
Many newly single moms were forced to leave education early in order to take care of their children. These women may have had to give up their dreams of academic progress, causing them to feel unfulfilled and dissatisfied. Helping Hands for Single Moms works with low-income single moms to help them obtain a college degree in a selection of admirable subjects. Single Mom College Community gives these women a safe space to discuss their worries and learn more about financial management. Thus, these women now have the chance to achieve their goals and set a good example for their children. This program also offers a range of benefits such as tech assistance, carpet cleaning, and even access to RV storage unit facilities.
9. Gingerbread
Gingerbread works fiercely to protect longer, single mothers, newly single moms, and children from injustice and ensures that they can continue to prosper, even under unfair circumstances. This charity was first established in 1918 under the name, The National Council for the Unmarried and Her Child, and has continued to keep up with the times and support these women in their day-to-day lives. Gingerbread offers an abundance of diverse resources including a bustling online forum, mental health help, and access to grants. Thus, single mothers can find a community of like-minded individuals and gain funds to support their expenses such as food, bills, and auto repair.
10. Parents Without Partners
Since 1957, Parents Without Partners has been helping divorced and widowed parents, as well as newly single moms, keep up with the stressors of modern life, whilst still caring for their children. Using a wealth of exceptional self-help strategies, this charity aims to guide single parents through this confusing stage in their lives. It also helps children who are finding it difficult to accept their parents' divorce by offering them a selection of unique coping skills and comfort. So whether your child is still in a pre-k class or a college seminar, Parents Without Partners is determined to be there every step of the way.
Sings You Need Support as a Single Mom
Excessive Feelings of Guilt
Life gets busy at times and many single mothers may struggle to complete that big presentation at work, whilst also making sure their children's school uniform is ironed for the next morning. When these women cannot achieve all of their daily tasks, they may become overwhelmed and experience a whirlwind of negative emotions. Over time, these feelings can put a lot of mental pressure on a woman, leaving her feeling unbalanced and apathetic about her usual motherly duties.
Frequent Isolation From Loved Ones
Many newly single moms have recently split up from a long-term partner or have experienced a great loss, and may decide to step away from typical social interactions or hide away from friends and family. Though this can give some peace and quiet in the short term, it can seriously damage self-confidence if it continues for many months or years. If you notice yourself avoiding interaction with loved ones or canceling plans at the last minute, you may benefit from discussing these issues with an experienced mental health practitioner.
Neglecting Your Physical Health
Although it can be tempting to ignore that throbbing headache or stabbing pain in your side, it is vital that you take good care of yourself as a single parent. You may feel too depressed to even care about these issues, but it should be noted that even the most simple symptoms can be a sign of something more sinister. Scheduling regular doctor's appointments can help you keep on top of your physical ailments and ensure that you are healthy enough to be a present and caring parent.
Money Issues
Some single mothers are burdened by money worries, whether it's due to the lack of child maintenance payments from the other parent or the immense cost of a funeral or divorce. In times of mental anguish, these women may be spending excessively, either to cover the cost of raising the children or just to avoid facing their feelings, keeping them in a vicious cycle of debt and poverty. If you are concerned by your spending habits or are eager to build a more stable income, contact your local job center and try to spend some time building a more effective budget.
Mood Swings and Irritability
If you have been struggling with conflict or custody disputes, you may be feeling very frustrated and on edge. This can lead you to be irrational with your children as well as other people, adding to the animosity within your life. Constant mood swings can be a sign of a very serious mental disorder, so it is paramount that you get in touch with your general practitioner, if you are concerned by your behavior. You may also benefit from learning a collection of mindful meditation techniques to help you unwind and relax after an argument.
How to Help a Single Mother in Your Life
Take Care of the Kids
Whether it's a trip to the beach or a cozy sleepover, taking care of the children can be a fantastic way to help a struggling single mom. This can help the mother enjoy some time to herself and can even give the child the prime opportunity to detach from the stressors of the situation and focus on being a kid again. Try to set up regular play dates with the children so that both parties can feel a sense of support and care during this difficult time.
Encourage Them to Try New Things
Struggling single moms tend to be stuck in their ways, repeating the same old routines without the chance to escape the daily grind. By encouraging these women to take a step out of their comfort zone, they may begin to see the joy in life again, offering them a more positive outlook on their future. Inspire them to join a salsa class or arrange a dinner at that fancy restaurant she's always wanted to try. This will help her detach from her regular concerns and give her the chance to find something new to focus on.
Ask the Right Questions
Though we may want to know about the details of the divorce, it is important that you do not force newly single moms to divulge all of this information at once. This includes questions about child custody or when she will start dating again. Some mothers may not feel comfortable talking about these topics straight away and would prefer to focus on something else. Instead, ask her about her work or what the children are interested in. This will help her feel more at ease and show her that people care about her as an individual and not just as a person in a relationship.
Parenting is a difficult feat for anyone, but this experience is often made harder for those forced to raise their children as newly single moms. After a divorce, a mother may have to pay all the bills, move house, or recover from the trauma she has suffered, placing great strain on her and her children's growth. If you are looking to get your life back on track after a breakup, research the charities listed in this article to help you find support in the Baltimore area.