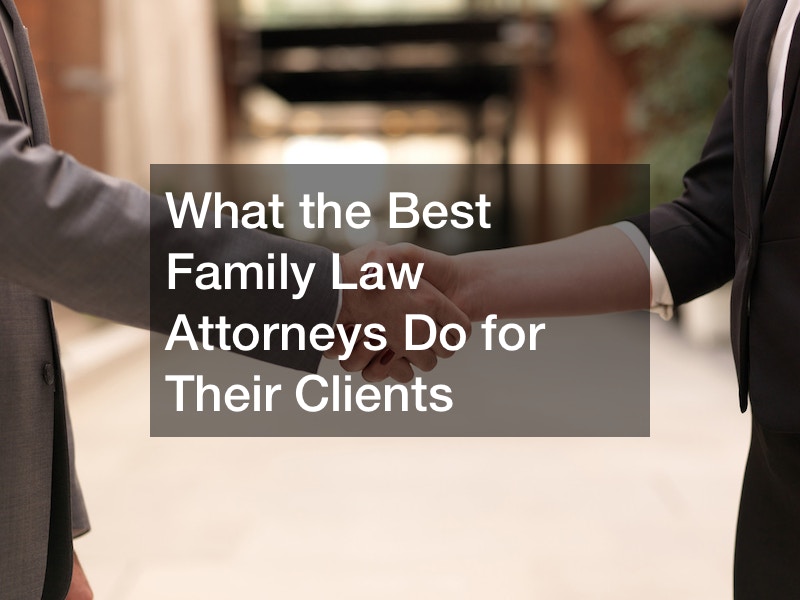 What the Best Family Law Attorneys Do for Their Clients
Families have their fair share of problems. When things aren't working right, everyone has something to lose. Because there's so much invested, legal representation plays an important role in protecting the interests of each member of your family.
The best family law practices advocate for fairness and justice. Families with a foundation of family law policies settle their affairs amicably. There's much to consider, from prenuptial agreements to family divorce and property settlement.
Due to family relationships' sensitive and complicated nature, you need a family law attorney's experienced, objective view. Your family law attorney will be the unbreakable link between you and everything else at stake.
Each family dispute is unique, so before engaging, find out what a family law attorney can do for you.
1. Family Mediation Services
Family disputes are to be expected. When they occur, how you resolve them matters. They start as minor disagreements that lead to life-altering outcomes if not handled effectively.
The best family law attorneys are experts in family mediation. They understand the pain of the affected family members. Your family attorney will analyze your concerns logically and offer solutions that satisfy all parties.
Going to court should be the last resort. Once you begin the litigation process, the judge will often advise on mediation before setting the trial date. Mediation is an excellent time to sit with your family law attorney and work things out.
Family mediation should ideally be done in a stress-free, less formal environment where you and your partner can present your arguments. A family mediation should get a win-win outcome for the entire family. However, this outcome is not always the case.
2. Divorce counsel
Family divorce is a sensitive issue that doesn't get solved overnight. It needs a subtle approach that only the best family law attorneys can provide. When you contemplate all the physical, emotional, and financial burdens involved, you won't think twice about hiring a legal professional for divorce counseling.
Family divorce is never a straightforward legal process. There's a lot of paperwork involved. Then there's breaking the dreaded news to your kids and close family members, the negotiation process with your partner's divorce lawyer, and subsequent court procedures, not forgetting court sessions that both parties must attend. Courtroom procedures can get dramatic if one partner decides to contest the divorce.
It's emotionally draining, especially when considering self-representation in court. You'll need to arm yourself with legal jargon, a thorough understanding of the requisite laws, and a strong resolve to get through the hearings. There are nuances in divorce matters that only an experienced family law attorney understands. Divorce lawyers are no strangers to the stresses and confusion during divorce and can guide you.
Your family law attorney should constantly reassure you throughout negotiations and court proceedings. You'll go through divorce settlements, like fair allocation of property and joint assets, equal distribution of marital wealth to your kids, and alimony payments.
3. Prenuptial Agreement Services
As mentioned earlier, it's crucial to use family law policies as the foundation for your family's well-being. Marriage is a legally binding contract. The agreements made under this contract affect the outcome of any future family disputes.
A prenuptial agreement draws a legal boundary. It ensures any matrimonial benefits enjoyed as a result of individual monetary acquisitions remain so while the marriage contract is intact. When a marriage contract is broken, the signed prenuptial agreement acts as certified testimony and proof of both parties' consent to individual ownership.
You must consider the importance of a prenuptial agreement. It's meant to protect you, your assets, and your sanity. Some of the best family law firms are often close to home and ready to help. You can start by searching online for a local family law attorney near you.
4. Child Support Services
Raising your kids has never been easy, but it's half the challenge with your partner on board. What was once a joint and enjoyable effort can become a battle for legal custody and mandatory upkeep. Be civil with your partner when fighting for custody of your kids, as the process is bound to affect them and you positively or negatively.
Child support is based on several factors. The amount paid depends on the details making up your case. If you have sole custody over your children, your partner is lawfully required to pay you a certain amount for child support.
Income determines who pays for child support. The person with an income will likely bear more responsibility for child support. However, whether you're the sole custodian, this responsibility could fall on either party. Child support is handled separately from other financial arrangements between you and your partner, like alimony or child visitation schedules.
It's a common misconception that mothers customarily get full custodial rights. However, from the court's perspective, fathers have equal legal rights to their child's custody as the mothers hire someone with legal experience to leverage their case; a fathers rights lawyer is a suitable choice.
5. Elder Law Services
Elder care bears a significant challenge for older adults and caregivers. As you raise your family, difficult situations will challenge you. What will you prioritize? Will it be possible for you to take care of senior members of your family?
Without the legal help of the best family law firms, aged family members are vulnerable to neglect, abuse, and fraud. Wicked family members can steal their wealth, while caregivers may mistreat the weak ones. It's in older adults' best interests that you hire an elder care lawyer. Elder law attorneys have vast experience in elder law and know the appropriate legal actions.
From their experience dealing with senior clients, elder care attorneys can guide you through your options. They can help you apply for assistance from government-sponsored programs offering older adults support. An elder law attorney will leverage tax deductions and create an affordable long-term health plan.
There's the likely chance of family disputes arising due to property and assets belonging to senior family members and decisions on their healthcare. Your elder law attorney can help your family draft a written will or living trust.
Your attorney will organize the pension funds estate planning paperwork and mediate disputes. It's a lot easier to plan for a suitable senior health care arrangement with the legal advice of an elder law attorney. Older adults can also be guaranteed that what they wrote in their will is rightfully bequeathed to their posterity.
6. Rental Services
Living on a rented property is only convenient when you and your partner are on good terms. Things change when your relationship falls apart. Who claims the legal right to continue staying in your rented home, and who leaves? Maybe you have kids, but staying together is no longer an option. What then?
During a sit-down with your family law attorney, determine who signed the lease on your rental property. That's the person with the legal authority. If you and your partner signed the lease when you moved in, you must agree on who will leave and who will stay.
If you have kids, and they're brought into the conversation, the balance shifts considerably in favor of the parent with custodial rights.
Depending on the contract agreement, the legal custodian could also revoke the authority of the one who signed the lease and take their place. However, the legal custodian must meet certain requirements which can be proven legally.
As home renters in the process of separation or divorce, involve the best family law services for an effective and fair legal process.
Weigh up the services of a landlord lawyer when sourcing vital documents like the lease contract, utility bills, and receipts for rent payment and home upkeep.
7. Child Custody Services
When separation or divorce is imminent, some families will fight for equal distribution of marital wealth or a share in property and assets. But having custodial rights over your children is the hallmark of true wealth.
Being the legal custodian of your children immediately sets you up for several benefits. The best family law experts will give insights into the custody process. First, there's a strong possibility that your partner or non-custodial parent will be legally obliged to pay for child support. Child support can cover a long list of needs catering to you and your child's well-being.
Then there's the children's inheritance of property, assets, and alimony payment, a stand-alone divorce settlement. Considering all to be gained and lost, you'd do well to seek legal custodianship.
The court can also grant partial custody and schedule visitation hours suitable for both parties, which won't affect the children's well-being. It would be ideal to seek counsel from a child custody lawyer.
8. Advanced Directive Services
Old age has many unexpected and painful outcomes. Older family members can fall victim to physical and mental health failure.
Poor health leads to a further decline in physical capabilities and memory impairment. When senior family members can't make sound decisions and require medical attention like Alzheimer care, an advanced directive serves as an authentic copy of their final wishes.
An advanced directive is a legal document that encapsulates your decisions concerning your health care and should be honored by your primary caregivers and family members.
You can legally obtain this document as early as 18 years. Think about how medical bills can get high in your old age. High cost of care can exert physical, emotional, and financial stress on your family as they figure out suitable action.
Advanced directive services are one of the best family law policies because you're considering your family's welfare. You put everyone's interests and chart a clear course for you and your family.
9. Estate Planning Services
Considering life's never-ending uncertainties, having a well-laid-out estate plan is important. The best family law attorneys advocate for early estate planning, and here's why.
Estate planning ensures your family is taken care of. Consider what could happen if you got divorced or died. You wouldn't want this to stress your family because they'll be provided for.
A good estate plan ensures proper allocation of property to your family. It contains arrangements for your children's welfare, including legal guardianship and power of attorney to a trustee to maintain your children's property allocation until they attain the age of self-determination.
The significance of estate planning applies to your tax payments. You'll save on federal and state inheritance taxes by hiring an estate planning attorney and get the advantage of tax deductibles.
Employing these measures ensures your family inherits an estate with low tax payments but high value. Estate planning secures your retirement benefits and provides a detailed plan for any individual or family-owned businesses.
10. End-of-Life Planning Services
Sadly, no one lives forever. When it's time to depart from this life, settling all your affairs quickly and securing a future for your posterity is vital. Despite the urgency, not all families fully realize the legal and financial benefits of end-of-life planning. Thankfully, the best family law firms offer a helping hand.
Your family attorney can help you draft a living trust or last will. These legal documents highlight all possessions under your name and how you'd want them allocated when you pass on.
Possessions listed under a living trust can be distributed to the rightful persons without court probate. However, the court must screen a last will before approval of property allocation.
Probate can take a long time and accrue significant expenses, so you need estate planning. When you die without a proper estate plan, it will be up to the court to decide a fair distribution of your property and assets to your family.
Your family law attorney can help you draft a letter of intent, which documents any final instructions to your family after you pass on. These final wishes include reaffirming estate wealth allocation, funeral pre planning arrangements, debt settlement, and any other instructions left out in your legal documents.
Although a letter of intent isn't classified as a legal document, it's a valuable source of information for your family and helps smooth out any estate disputes.
From legal contracts to financial investments and lifelong commitments, families have much to lose when a family union breaks. It takes the best family law attorneys, with a keen interpretation of the laws, to understand the nuances of family ties and how to solve family disputes effectively.
So yes, there's a lot a family law attorney can do for you.